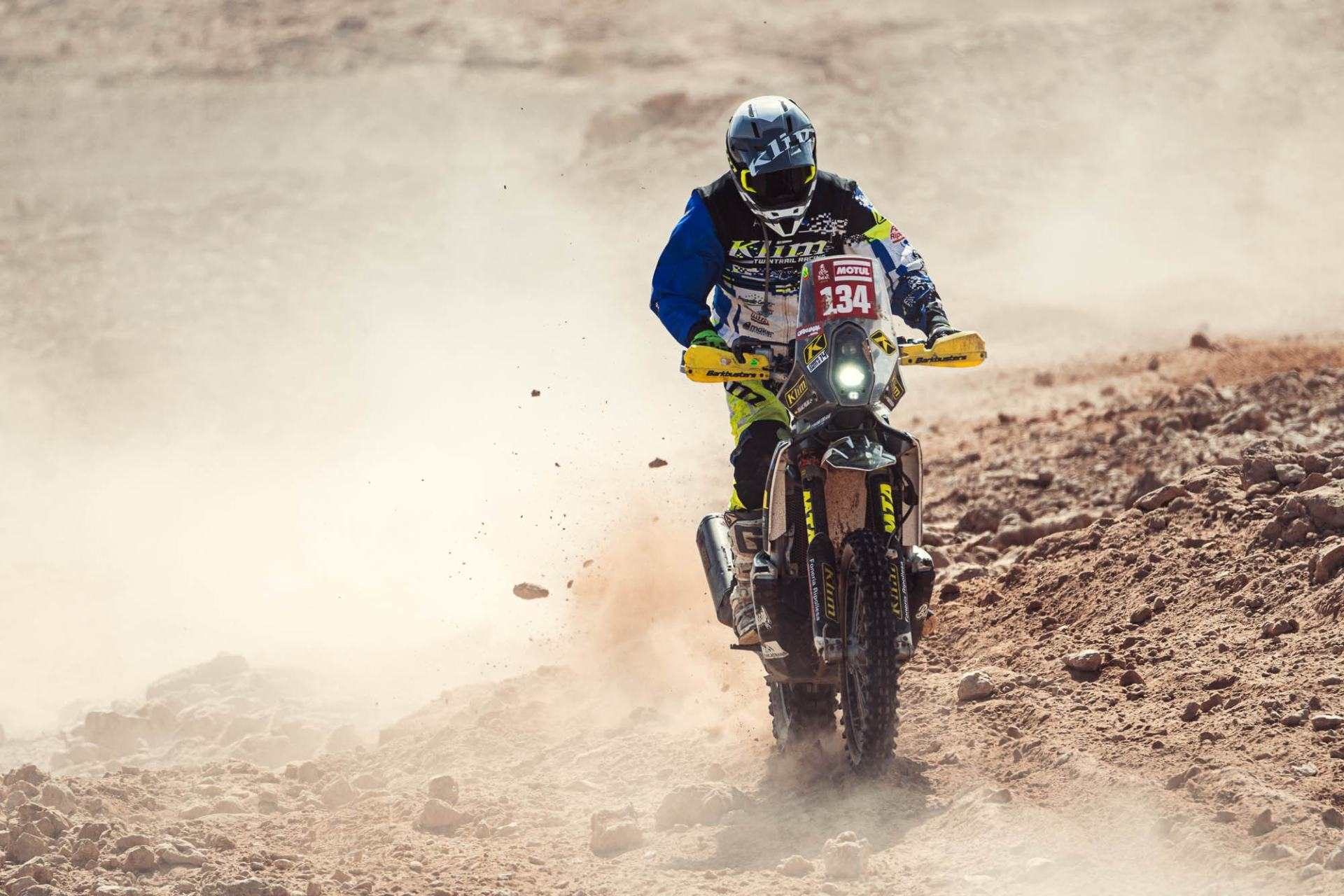 Good start to the second half of the Dakar for KLIM TwinTrail Racing
Very good stage for KLIM TwinTrail Racing, with Albert Martín 51º, Carles Falcón 70º and Isaac Feliu 90º.
The seventh stage of the Dakar 2022, a 400km special, has combined fast tracks, a lot of stone and some dunes.
The second half of the Dakar 2022 began with a highlight, a 400km stage of special (although approximately 70km neutralized in asphalt area). The Dakar Rua has left the Saudi capital behind and has moved towards Al Dawadimi, in the south. A stage that was expected to be long and tough, and which the KLIM TwinTrail Racing drivers have successfully completed. Albert Martín has returned to be the fastest, finishing 51st after applying some penalty to other riders, Carles Falcón has achieved his best 70th stage result, while Isaac Feliu has had a weaker day, but he has finished which is the most important in the toughest rally in the world.
Albert Martín, 6th among the Original by Motul
As the Dakar progressed, the Spanish rider Albert Martín found his rhythm. He started out calm after a month without getting on the bike due to an injury during the last round of the Spanish TT Rally Championship, but now he feels better and more confident on the bike. This fact is demonstrated by his latest results, setting today the 51st best time of the general classification and 56th after the first 7 stages.
"I am happy, except for a small fall that I have had. I had a great time, it was a fast stage with rivers of sand, tracks that were not infinite straight to go full throttle, but had to work, it was a physically tough stage. If it hadn't been for the crash, it would have been a great stage ", said the Valls rider.
Carles Falcón achieves his best stage result
We have always highlighted the perseverance of Carles Falcón, who today has led him to achieve his best stage result, 70th. Although the stage has not started in the best way for the Tarragona, he has been encouraged and gained motivation. "Up to km 200 I was quite thick, I did not start very well, I was confused and not attentive to navigation, so I slowed down a bit. After km 200 the terrain has changed and navigation has become a bit more complex, and that's when I woke up and got excited. We have gathered a group of 5 riders and it was fun, although with a bit of dust. We have been riding fast, without navigation problems and pushing until the end ".
"One more day, one less day", that's how the day ends Isaac Feliu
Not every day is good nor does it end with a smile, least of all on the Dakar. But the most important thing is to finish the stage and continue in the race, so today is also a good day for Isaac Feliu. "It was not my best day at the riding level, I did not quite feel comfortable on the bike, I did not find my rhythm and that meant that I was a little slower to ensure. The terrain was quite rough, we have made stones, dunes, fast track, slow track and I have basically gone to preserve mechanics and physique. One more day and one day less."
Stage 8: the toughness of the Dakar arrives
The eighth stage of the Dakar 2022 is sure to be talked about. It will be a long stage again, with 831km in total, of which 395 timed. A long day that will surely tire the riders and will consist of 100km of dunes, with 30% sand and all the other stretches of dirt.
Results Stage 7
1. #011 Jose Ignacio Cornejo (CHL) 3:28:46
2. #001 Kevin Benavides (ARG)   3:29:30 GAP +0:44 
3. #088 Joan Barreda (ESP)   3:31:37 GAP +2:51
51. #136 Albert Martin (ESP)    4:24:40 GAP +55:54
70. #135 Carles Falcón (ESP)  4:44:29 GAP +1:15:43
90. #134 Isaac Feliu (ESP)   4:56:58 GAP +1:28:12
Results General 
1. #042 Adrien Van Beveren    23:45:02
2. #052 Matthias Walkner (AUT)   23:50:14 GAP +5:12
3. #001 Kevin Benavides (ARG)  23:50:25 GAP +5:23
56. #136 Albert Martin (ESP)    30:45:00 GAP +6:59:58
71. #134 Isaac Feliu (ESP)   32:25:26 GAP +8:40:24
76. #135 Carles Falcón (ESP)  32:56:21 GAP +9:11:19
Results Original Motul Stage 7:
1. #039 Benjamin Melot (FRA)  3:57:59  
2. #036 Arunas Gelazninkas (LTU)  4:00:25 GAP +2:26 
3. #037 Emanuel Gyenes (ROU)  4:09:15 GAP +11:16
6. #136 Albert Martin (ESP)    4:24:40 GAP +26:41
13. #135 Carles Falcón (ESP)  4:44:29 GAP +46:30
19. #134 Isaac Feliu (ESP)   4:56:58 GAP +58:59
Results Original General:
1. #036 Arunas Gelazninkas (LTU)  25:47:10
2. #021 Milan Engel (CZE)    26:47:59 GAP +1:00:49
3. #123 Charan Moore(ZAF)   27:08:24 GAP +1:21:14
8. #136 Albert Martin (ESP)    30:45:00 GAP +4:57:50
14. #134 Isaac Feliu (ESP)   32:25:26 GAP +6:38:16
17. #135 Carles Falcón (ESP)  32:56:21 GAP +7:09:11